Stowford Choir - Winners!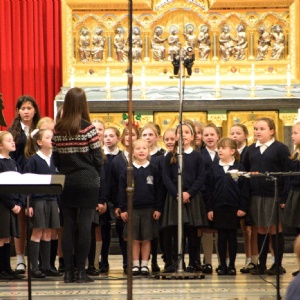 Stowford Choir won the BBC Radio Devon 'Star for Christmas' competition!
Stowford Choir performed their winning song 'Kuyimba' at the BBC Radio Devon Christmas Service at Buckfast Abbey on 14th December 2017. The choir were the winning finalists in the large school category of the 'Star for Christmas' competition; the small school category was won by Sacred Heart Roman Catholic Nursery & Primary School.
The recording of the service will be broadcast on Christmas Day. Thank you to Mrs Carkett for organising the choir, the children for singing so beautifully and the parents for their support. It was a wonderful experince for everyone.