We're so proud of Bella!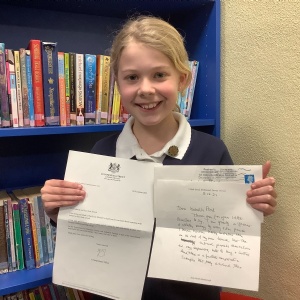 She is one of our Year 6 Eco Council members who is incredibly passionate about making our school as environmentally friendly as possible.
At the end of 2022 she wrote to The Prime Minister and David Attenborough pleading for help to improve our environmental impact at Stowford. Bella hoped for solar panels for our school. Recently she received replies from 10 Downing Street and Sir David Attenborough, who sent a very special and thought provoking hand written reply!
We're excited to explore the ideas that Sir David Attenborough suggested and we think Bella is absolutely brilliant for using her initiative. This gives us hope that the future of our planet is in safe hands with such pro-active climate campaigners amongst us! ⭐