Roman Day in Year 3 at Stowford School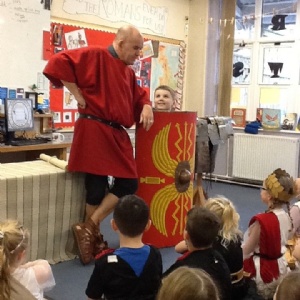 Year 3 Children have recently enjoyed a fantastic curriculum day focusing on their current topic about 'The Romans'.
All the children came to school in Roman costume and took part in a variety of activities to enhance their topic learning. Steve Manning who is a professional story teller spoke to the children about life within the Roman army and also brought some well-known Roman legends to life.
Mrs Armley-Jones of Swallows class said "It was great to see the children so interested in the topic and have the opportunity to ask their questions and receive such detailed answers from Steve. It was also fantastic to see the children have a go at marching like Roman soldiers!"
Libby of Swallows Class in Year 3 gave an enthusiastic account of the day; "we had a visitor who told us lots of stories about Romelus and Remus. I really enjoyed all the Roman marching that we did in the playground as well, that was really fun!" Manus, also of Swallows Class added that "we learned about Roman numerals which I thought was interesting and I really liked dressing u