Wall of Poppies for Remembrance 11.11.2019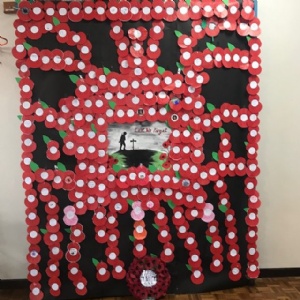 The Stowford Community created a stunning wall of poppies for Remembrance Day, 11.11.2019.
The wall was created from poppies with special dedications in the centre from children, families and staff to remember loved ones.
So that every child could feel part of the Remembrance Day event, alongside teaching in school and as an optional extension to homework, parents and carers were asked to talk to their children about the significance of poppies and what they represent. Then, if the children wished to do so, they could make a dedication to anyone in their family, past or present, by writing a message in the centre of the poppy provided e.g. 'for Great Uncle Mark who fought in WW2' or 'for Mummy who is in the Navy' and then sign their name.
On the morning of 11th November all classes brought their poppies to the hall and Mrs Hill and Mrs Williams, who coordinated the poppies, really did not know how many to expect. The response was incredible and the poppies with their dedications became a beautiful and poignant display for the assembly and silence at 11am. "We will remember them".