Young Writers Success at Stowford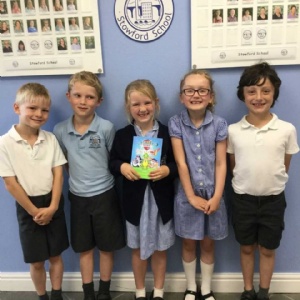 Stowford children in Year 2 have enjoyed taking part in a Young Writers Competition earlier this year and the winners were able to see their poems published.
Children worked really hard on their poems at home and some children used their school topic work as inspiration for their ideas.
Henry, of Sparrows Class said "we sang a Continent Song in class and that gave me the idea to write a poem about the Continents and the Sea. I like how my poem rhymed". Other participants were from Finches Class, including Libby, Evie, Toby, Manus and Sebastian. All of the children spoke proudly of their work and Sebastian was able to recite his poem titled 'The Snake and the Cake' off by heart. Libby talked about her poem called 'The Beach' and said "it made me feel happy when I was writing it". Toby enjoyed writing a poem titled 'Rivers', inspired after spending a family day by the River Erme and Manus wrote a poem called 'The Penalty'. He said he wrote his poem "because I like football and playing with my Dad".
Miss Burrows of Finches class said that "it was lovely to listen to how proud the children were of their work when talking about their poems. They were really delighted to receive their individual published books, which are also in pride of place in our school reception area".