Stowford School Year 6 Production of 'The Greatest Showman'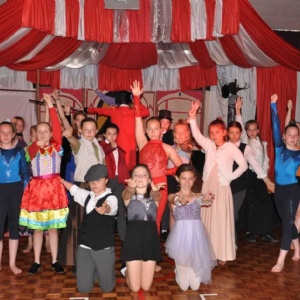 Stowford children, staff, parents and families have just had the privilege of watching an amazing Year 6 production of 'The Greatest Showman'.
The entire show demonstrated the highest standards of performing arts and was a truly fantastic experience for everyone who was able to see it. Year 6 teachers Mr Jackson and Mr Nute both co-wrote the script. The teachers and teaching assistants dedicated many hours to ensuring that all children were able to show themselves as their best and really be able to dramatise the underlying themes of the show through their drama, dance and singing. The Year 6 children performed their superb production three times for parents and twice for the rest of the school to watch as part of their dress rehearsal.
Mr Jackson of Eagles class, said, "The children have worked so hard on this and deserve all the recognition. Their determination to succeed was clear throughout every rehearsal. I am so proud of every single one of them. Mr Nute, of Hawks Class, said, "This has been an incredible journey for the children. They have grasped this opportunity to showcase all of their incredible talents and create a production of the highest standards. It has been an absolute pleasure to have been part of this event, which will be talked about, at Stowford, for many years to come."
Some of the main parts were played and shared by the following children in Hawks class: Ella, who played the Bearded Lady; Charlotte, who took on the role of Jenny Lind and Abbie and Ellie, who shared the role of P.T Barnham. Ella, who plays the part of the 'Bearded Lady' said later, "It was fun being the bearded lady but my biggest worry was my beard falling off! I go to a drama club, which I think has definitely improved my acting and singing." Charlotte who played Jenny Lind also spoke of her joy of singing in the show, "I really liked that I could project my voice". Ellie, who shared the role of Barnham with Abbie, also commented, "I was really proud that I played this part because I don't normally perform a part with songs and I managed to do it. There was such a buzz at the end of the show when Abbie and I bowed to the audience, which I loved!" Lucie and Rosa, in Eagles class, also both played important roles in the production. Lucie said, "I liked being Mr Bennett because I was able to pretend being angry when I wasn't really angry!" Rosa, who also played the part of Charity, shared that she liked singing her song entitled 'Tightrope', because "It was a challenge to sing and I had lots of lines to learn as well."
Many members of staff throughout the school also contributed their time and made a sterling team effort to support the success of the production within limited time. Stowford's PE teacher, Ms Kee organised morning dance rehearsals in addition to P.E lesson time. This really helped the children to be able to practice the 5 dances performed which Ms Kee had choreographed with the pupils. The beautiful scenery was painted by Teachers Mr Farnham and Mr Bradley, as well as Teaching Assistants Mrs
Freeland and Mrs Gilbert. A big credit to the wonderful backdrop has to go to Teaching Assistant Mrs Gilbert and Year 5 Teacher Mrs Chislett, who both used their sewing skills to create the colourful circus top tent curtains. Behind the scenes Teaching Assistant Mrs Dean has been working frantically on costume alteration duties and thanks to both the staff, parents and children's contributions of props, the scene was set for a memorable production.
After their final performance, the children were extremely pleased and proud of their individual performances as well as their collective team effort. They are also celebrating their recent SATs results which were outstanding. This is especially poignant as they will now be leaving Stowford School and moving onto pastures new.