Stowford Junior Ten Tors Team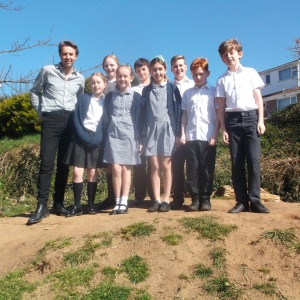 Stowford School is excited about participating in the Junior Ten Tors Challenge for the second year, an activity that has been organised and run by Year 3 Teacher, Mr Green.
This year, eight Year 6 children were randomly selected and offered the opportunity to be a part of this challenging event.
The children involved experience 10 weeks of training in school before taking part in the event which happens on June 7th. This training includes navigational skills, map reading, outdoor cooking, organising a kit list and tent building. Mr Green is currently running this training during lunchtimes as well as after school with the selected Year 6 children. Once out in the field, the emphasis will be on the children to be able to use and apply the skills they have learned, as they will be navigating for themselves and working together as a team.
An exciting development for the future is that another member of the Stowford Staff, Mr Roberts of Year 1, will also be fully qualified as a Ten Tors Leader in addition to Mr Green and this will offer more children the opportunity to take part.
During a recent training session with the Year 6 children, Mr Green said "I love being able to give children the opportunity to experience fieldwork in our local area of Dartmoor and to develop life- long skills that will be invaluable". Ellie spoke on behalf of the team when asked what she was most looking forward to; "I like the challenge of trying to aim for something, it's going to be fun! We are going to have to read maps and work in a team". The Year 6 Team this year as seen in the photo are; Ellie, Megan, Lily, Rose, Elijah, Ethan, Lewis and Charlie.