Stowford School benefits from the Co-op Local Community Fund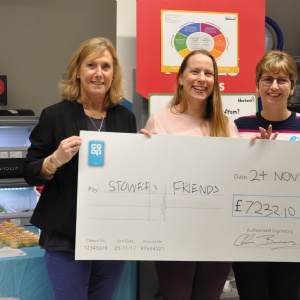 Stowford School/Stowford Friends have received a cheque from the Co-op Local Community Fund for an amazing £7232.10!
A year ago, Stowford staff member Mrs Angie Vosper made a successful bid to become one of the local causes supported by the Co-op via its membership scheme. The bid was on behalf of the 'Thrive' programme in school which is run by Mrs Juliet Dean.
This support from the Co-op raised a fantastic £7232.10. Mrs Vosper, Mrs Dean and Mrs Williams attended the Co-op for a presentation on Saturday 24th November where they gratefully received a cheque for this amount.
Headteacher Mrs Williams said "our Thrive Programme is so important as it supports children with different emotional needs and children who may be having a hard time. The Co-op's ethos of 'Giving back to the Community' has been very much appreciated and this will support our children in a fantastic way".
Thank you to the Co-op and everyone in the community for the support!