Stowford Choir - BBC Radio Devon Finalists (again)!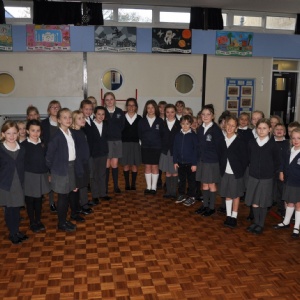 Our wonderful Stowford Choir has once again triumphed and sung their way into the finals for a second successive year for BBC Radio Devon's 'Star for Christmas' Choir Competition.
Stowford Choir won this competition last year with their beautiful rendition of 'Kuyimba' (led by Mrs Abi Carkett of Year 4). Key Stage 2 children in the choir are working really hard in their practices and sound stunning as ever! The Choir practice this year is being run by Year 2 Teacher Miss Hughes, who says "it's been fantastic to have such a big choir this year and every child is putting in a huge amount of effort and hard work."
The Choir's recording of 'A Christmas Hallelujah' will be available to listen from the 30th November to the 6th December. The public online vote will also run during this time so do please get involved and support our lovely Stowford Choir! Further details can be found at the BBC Radio Devon Website. The winning Choir will be announced on Friday 7th December so do please start voting as soon as you can!
Stowford choir would absolutely love to have the chance to perform in Exeter Cathedral on the 18th December. The service will be recorded for broadcast on Christmas Day. We wish them lots and lots of good luck!