Speed Watch with Year 6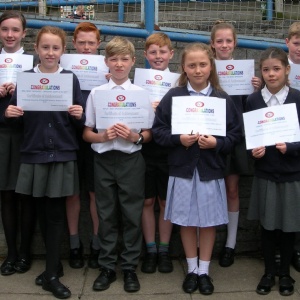 On 19th and 20th April the Year 6 classes at Stowford School took part in a Speed Watch initiative with Ivybridge Neighbourhood Police.
The speed watch took place on Exeter Road, close to the Rugby Club, with groups covering an hour each: 9.30-10.30, 10.30-11.30 and 1.30-2.30 on each day.
The children (and accompanying staff) monitored the speed of 1,311 vehicles travelling into Ivybridge from Bittaford where the speed limit is 30mph. Approximately 5% of these were exceeding the speed limit with the fastest driver caught doing 45mph!
Every driver speeding was stopped (tickets issued by the police officers accordingly) and interviewed by the children. The questions asked included: 'How would you feel if you hit me or one of my friends?' and 'Why were you speeding?' There were many and varied excuses including, 'in a hurry', late for an appointment', 'it's a new car', was listening to music' and the pièce de résistance 'I was sneezing'! Some drivers found the whole experience quite emotional. The drivers stopped were from all walks of life, including parents, teachers, delivery drivers and visitors to the area.
The aim of the exercise was to educate drivers about speeding and the devastation it can cause.
PC Dingley said "Being caught and interviewed by children has a far bigger impact on the drivers than a fine or being sent on a Speed Awareness course."
The photo shows one of the groups with their certificates.